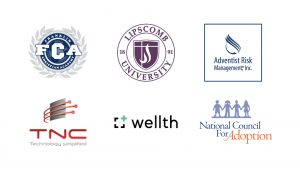 Below are some of the newest change makers we have welcomed to the 5by5 family along with why they exist.
Adventist Risk Management is the official insurance and risk management company for the Seventh-day Adventist Church and Adventist ministries around the world.
Wellth is a leading healthcare technology platform designed to encourage patients with chronic illnesses to remember to take their medication.
National Council for Adoption believes that raising public awareness of the nearly 428,000 children in foster care is a crucial step toward connecting these children with loving, permanent families.
Total Network Consulting delivers tailored technology solutions from conception, design, consulting, deployment, management, and support of complex communication issues.
Franklin Christian Academy provides a Christian world-view curriculum and servant leadership training to students, located in Franklin, TN.
Lipscomb University, specifically the Christian Scholars' Conference, has a mission to create and nurture an intellectual and Christian community that joins individuals and institutions to stimulate networks of scholarly dialogue and collaboration.
More 
Insights
Ideas, concepts, and thought leadership from the services we provide and the industries we serve.